PRP For Hair Restoration
$799.00
Regular price
Unit price

/

per
GOAL
Stimulate natural hair growth, slow down hair loss, grow stronger, thicker and fuller hair.
DOWNTIME
Mild swelling and redness in treated areas that may last a few hours/days. Bruising may occur.
COST
$799/session.
$2,000 for a package of 3 sessions.
Quantity selected exceeds current stock
Adding product to your cart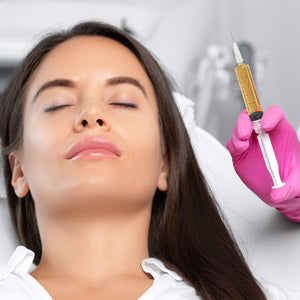 Questions
Platelet-Rich Plasma (PRP) is an autologous concentrated preparation of platelets and the associated growth factors in a small volume of plasma. Platelets are a natural source of a number of growth factors in their natural and biologically-determined ratios
PRP hair loss injections trigger natural hair growth and maintain it by increasing the blood supply to the hair follicle and increasing the thickness of the hair shaft.
• Increased blood supply to the follicle
• Increases shaft size (thickness)
• Triggers and maintains the growth phase
• Controls hair growth cycle
• Decreases hair loss
Platelets release growth factors which regulate the healing cascade by signaling to surrounding cells to repair damaged tissue and regenerate new tissue. Key growth factors involved in this process include but are not limited to:
• Platelet-Derived Growth Factor (PDGF)
• Transforming Growth Factor group (TGF)
• Epidermal Growth Factor (EGF)
• Vascular Endothelial Growth Factor (VEGF)
• Fibroblast Growth Factor (FGF)
• Keratinocyte Growth Factor (KGF)
These growth factors are like signal callers that give instructions to your tissue to regenerate and multiply.
This quick injection involves using your body's own platelets in a very easy three-step process:
Step 1 – A special collection tube is used to draw your blood and is placed into a centrifuge.
Step 2 – The concentrated platelets are drawn up into a syringe.
Step 3 – Using a small needle, the platelets are then injected strategically into the scalp.
Arrive to your appointment with no makeup on.
Please eat a normal breakfast or lunch the day of your PRP session.
Drink a bottle of water (500 mL) at least 2 hours before your session.
AVOID alcoholic beverages at least 24 hours prior to treatment (alcohol may thin the blood increasing the risk of bruising).
AVOID anti-inflammatory/blood thinning medications ideally for a period of 2 weeks before treatment. Please consult with your primary physician prior to discontinuing any medications.
It is normal to experience bruising, redness, itching, swelling and/or soreness that may last from 2-5 days following your treatment. If you experience any pain or discomfort you may take Tylenol or other Acetaminophen-containing products as directed.
You may have a bruise at the blood draw site.
You may notice a tingling sensation while the cells are being activated.
To avoid bruising continue to avoid aspirin, Advil, Motrin, Iburprofen, Naproxen, Voltaren and other anti-inflammatory medications for 2 days after your procedure if okayed by your medical doctor. Avoid alcohol and blood thinning agents such as vitamin E, vitamin A, Ginko, Garlic, Flax, Cod Liver Oil, Essential Fatty Acids and least 24 hours after your treatment
Avoid vigorous exercise, sun and heat exposure for at least 2 days after your treatment.
Avoid saunas, steam rooms, swimming for 2 days after your treatment.  
Recommended
You might want to take a closer look.
NOT SURE WHICH TREATMENT IS RIGHT FOR YOU?