Laser Lipo (Non-Invasive)
$250.00
Regular price
Unit price

/

per
GOAL
Reduce fat and cellulite while tightening the skin simultaneously.
COST
$250/session.
$199/session for a package of 8 or more
Quantity selected exceeds current stock
Adding product to your cart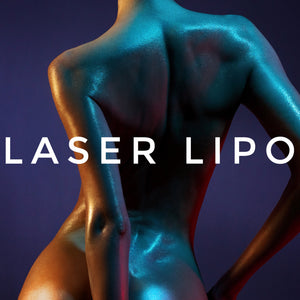 Questions
Laser Lipo is a ground-breaking body shaping treatment offering a non-invasive solution for; skin tightening, body contouring and cellulite reduction.
There is no pain or downtime and you can even have a session in your lunchtime break. The pain-free treatment helps reduce fat cells and works to form new collagen; lifting and tightening the skin with incredible long-lasting results.
This clinically proven, non-invasive laser treatment penetrates the skin to selectively target the fat cells underneath, leaving blood vessels, nerves and other tissue undisturbed. When the fat cells absorb the energy from the lasers they release  glycerol and free fatty acids. The harmless fat cell content is then removed from the body through lymphatic drainage, giving results that get better over time.

There is zero pain and zero discomfort during treatments. 
The primary benefit of a Laser Lipo treatment is the loss of inches by fat reduction. However, it also reduces cellulite appearance and tightens the skin during each treatment as well.
Inch loss
Far reduction
Cellulite reduction
Body contouring
Skin tightening
The treatment itself is about 30 minutes long.
You'll see an instant result after your treatment. Results will continue to improve over 2-4 weeks. For optimal results, a series of 8 treatments is recommended.
Be sure that the treatment area is fully washed and has no makeup, lotions or medications on. 
Try to avoid alcohol 24 hours before your treatment.
Notify us if you've been on any recent antibiotics or if there have been any changes with your medications. We do not treat anyone who has been on Accutane at present or the past 12 months.
Avoid bathing or washing with very hot water, Use tepid water. Wash gently. Keep the area clean.
Avoid any irritating medications or chemicals. Examples of these are Retin-A, Benzoyl peroxide, glycolic acid or astringents.
Avoid direct sun exposure for at least 3 weeks after treatment. Protect the area with a sunscreen of higher than 30 SPF or else the skin may develop hyper-pigmentation/hypo-pigmentation marks.
Avoid alcohol 24-48 hours after your treatment
Stay hydrated after your treatment
For best results do not eat for 2-3 hours after your treatment, this helps burn the fat being released from the fat cells
Exercising for 20 minutes helps drain the lymphatic system aiding with removing the fat from your body.
Recommended
You might want to take a closer look.
NOT SURE WHICH TREATMENT IS RIGHT FOR YOU?